Free Youth Financial Education Webinar
Date: Thursday, August 26, 2021
Time: 5 pm via Zoom
RSVP Click here
A free webinar for youth to discuss banking, budgeting, credit and all the basics of working with money that schools don't teach. Adults are welcome to join, too. A great chance for you and your children to create a dialogue about lifelong financial management skills.
The financial habits your kids learn now are the ones that can help determine their financial future.
Questions? E-mail [email protected]
---

Congratulations to Our 2021 Scholarship Winners
"We have a long history of supporting North Bay youth and nothing is more satisfying for us than seeing students thrive," says Chris Call, North Bay CU CEO.

One of this year's 2021 Scholarship winners, Francesca Pharo, wrote to the credit union recently "You supported me when I was raising my livestock in 4-H…and now you've extended that support through college." The credit union offers unique financing for 4-H and Future Farmers of America (FFA) student projects.

This year's scholarship winners are:

Kaia Stites of Penngrove who is attending Santa Rosa Junior College
Francesca Pharo of Sonoma who is at Colorado State University
Cameron Taggesell of Sonoma who is headed to University of Oregon

"I know that the last year was a difficult one for students given the challenges of remote learning and cancelled classes," Call said. "These hardworking students are looking forward to a return to campuses and we're glad we could help them."
---

Is Your Go Kit Packed?
There a no shortage of reminders lately of the importance for emergency preparedness. We strongly encourage you to take time now and put together one Emergency Supply Kit together for each family member — and your pets.
Here's a checklist of what to include:
Face masks or coverings
Three-day supply of non-perishable food and three gallons of water per person
Map marked with at least two evacuation routes
Prescriptions or special medications (make sure to check their expiration dates periodically)
Change of clothing
Extra eyeglasses or contact lenses
An extra set of car keys, credit cards, cash or traveler's checks
First aid kit
Flashlight
Battery-powered radio and extra batteries
Sanitation supplies
Copies* of important documents (birth certificates, passports, etc.)
Don't forget pet food and water!
*It's best to digitally scan these documents, password protect them and store them in a digital space you can access remotely.
Items to take if time allows:
Easily carried valuables
Family photos and other irreplaceable items
Personal computer information on hard drives and thumbdrives
Chargers for cell phones, laptops, etc.
Always keep a sturdy pair of shoes and a flashlight near your bed and handy in case of a sudden evacuation at night.
Read more here about ways to prepare for a variety of events.
---

Mooove to 100% Free Rewards Checking
To stand out from banks we knew we had to offer you something much better than any bank could, and that's our Kasasa checking.

Kasasa rewards checking is 100% free with no strings attached. With Kasasa, any ATM can be a free ATM, and best of all, Kasasa rewards you when you use your debit card for things you do anyway. Choose your reward:
Higher yields on your deposits
Earn cash back when using your debit card
Monthly credits at iTunes, Amazon, or Google Play
It's takes just minutes to open a Kasasa checking account online, or stop by any branch.
---
Let us know before you go
Traveling away from the area or out of the country? Let us know before you go. Unusual activity on your accounts could lead our card processor to suspend transactions to prevent fraud. Avoid this by calling (707) 584-0384 before you go.
---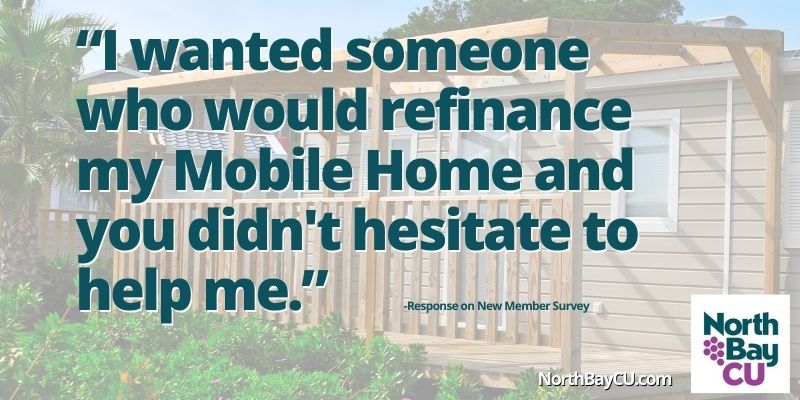 NOR-609