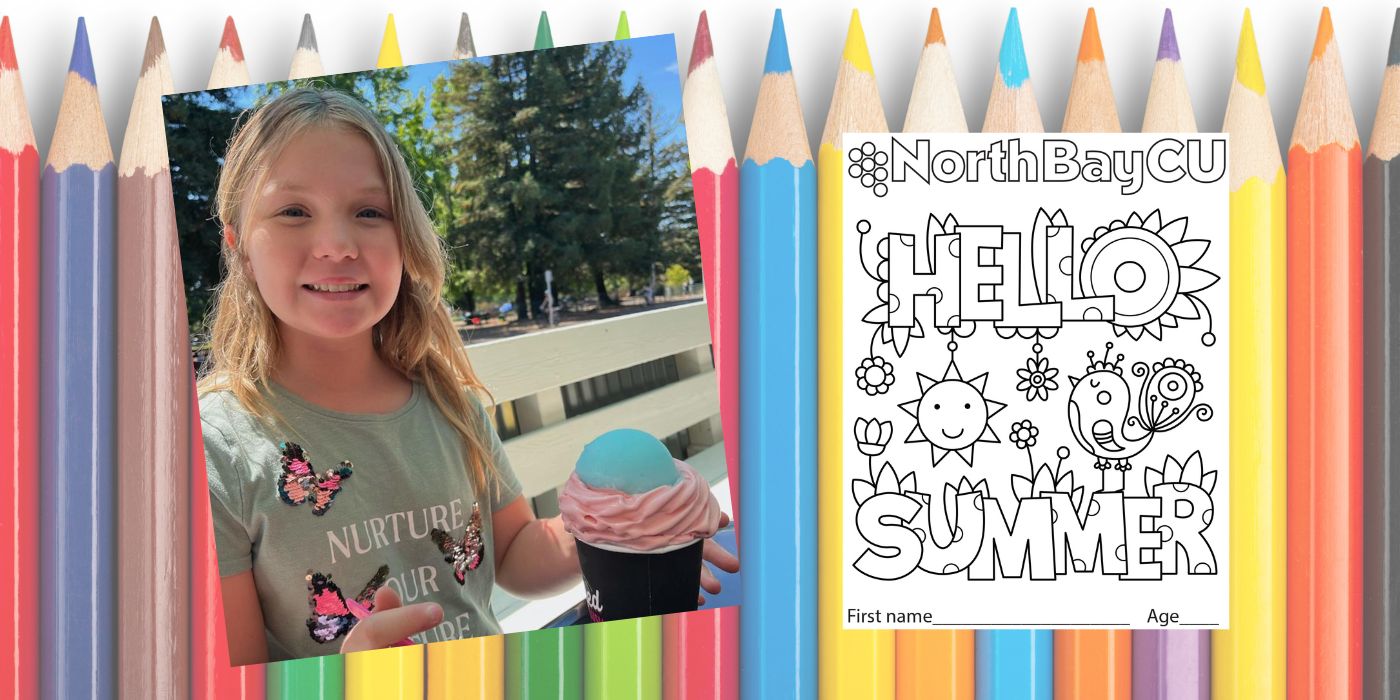 Congrats to our contest winners
Thank you to all the North Bay kids who entered our Hello Summer coloring contest. We loved seeing all the entries that brightened our offices.
We held a random drawing and awarded four $25 Wicked Slush gift cards. Abby (pictured above), was very excited to learn she was one of the winners.
---

Smart school shopping
Back-to-school shopping season is here, and it's estimated that Americans will spend $41 billion dollars on back-to-school expenses or about $900 per household. This is a great opportunity to teach kids about budgeting and saving money.
Make a list
First, sit down with your kids and talk about what they think they'll need for the school year. Write up a list and include everything from clothing, school supplies, computers, sports equipment, etc. Be sure to look beyond the first day of school and think about the entire year. With the shopping list of items, have your child check off each item as you buy it and note the actual cost.
This is also a good time to look around the house to see if you already own some of these items. And consider putting an ask out to your friends by email or on Facebook about items you're looking for that they may have and not need any longer.
Making a list is a great way to make sure you're only shopping for what you actually need. This is also a great time to talk about the "needs versus wants" of life.
Talk budget
Next, discuss the budget for shopping. And do comparison shopping online so you can both know what the bigger items really cost and reevaluate the list based on the budget amount. Be sure they learn about shipping fees and to look for free shipping where available.
Consider the effective learning technique that author Ron Lieber suggests: If your child wants an expensive pair of jeans, you'll pay what jeans at Target or Walmart cost, and your child can pay the difference if they really want the expensive pair.
Before you go shopping for items, look at sites like Facebook Marketplace, Play It Again Sports, and Offer Up to see if items you need are there. Also consider joining the Sonoma County Buy Nothing group which lets you search for items your neighbors want to give away. You'll show your kids how to make money go further and help reduce items going to a landfill.
Get a headstart
Make your list and start your shopping early to take advantage of early sales for deeper savings. And you don't need to buy a year's worth of clothing at one time. Talk about spreading these purchases out to save money by taking advantage of seasonal sales with deeper discounts.
Lifelong lessons
Keep this discussion going with your kids throughout the school year. Talk about items they bought they didn't really need, what they thought were useful purchases, and how they'll approach shopping in the future. The time you spend with your children teaching them about money, budgeting, and saving will pay dividends for a lifetime.
---
Do this before taking off
If you're traveling out of the state or country, please call the number on the back of our Visa Credit Card to notify them where you will be. That way, our card processors can know to expect charges and you'll be less likely to encounter any interruption to your service. Also, add that phone number to your Contacts list in case your card is lost or stolen.
Some other tips as you get ready to travel:
Wallet cleaning: Don't have any more carry-ons than necessary. Clean out your wallet or purse of items you won't need like club cards, insurance cards, and coupons.
Activate Online Banking: Being enrolled in Online Banking and our Mobile Banking app means you can monitor your accounts from any secure computer, transfer funds, confirm a transaction amount, and much more.
Don't keep your credit card and cash together: Carry only one credit card and some cash, leaving your other forms of payment locked safely in your hotel room.
Store copies in the cloud: Make copies of items in your wallet or purse like driver license, passports, front and back of credit cards, etc. Store these securely where you can access them remotely or with a trusted friend you can contact.
Don't overshare on social media: It's best to not post that you are away from your home on social media, as criminals may be able to see this. Save the pics and stories for after you return.
Have a great trip and don't forget the sunscreen!
---